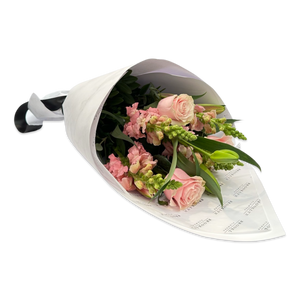 The Lily, Rose and Snapdragon Bouquet is part of our new collection, including a beautiful selection of these flowers arranged by our team in an all round style. This is a great bouquet that focuses on the simplicity of its design, letting the flowers speak for themselves.

You can choose between a small or large size.
The small size consists of 3 lilies, 5 snapdragons and 3 roses (Photo depicts Small)
The large size consists of 5 lilies, 8 snapdragons and 5 roses. 
If you want to send this product outside of Auckland, please click here. 
Please note, this arrangement may differ slightly from the image as we try to use the freshest flowers available at the time. Your order will always look fresh and designed in the same style, however it may be slightly different in colour due to seasonal availability. We will try our very best to match which colour option you choose. 
Images depict the small pastel colours bouquet.
In store Arrangements
We welcome custom made arrangements and walk ins. Please allow 5-10 minutes for us to arrange your flowers while you wait. Or phone ahead and we will have your order ready for you. Please call  09 218 9846 or 027 261 5389 to place your order
Delivery Information 
Same-Day Flower Delivery
Order before 2.00 pm for same-day flower delivery Auckland Wide.
Order before 10.30 am for all Wider Auckland Business deliveries.
Order before 2.00 pm for all Central Auckland Business deliveries.
Place your order anytime for future delivery to guarantee your order.
For more Delivery Information please click here 
Urgent Delivery
For all Urgent Deliveries Please call   09 218 9846 or 027 261 5389 to place your order click here for more information
Weekend Delivery
Saturday same day deliveries are available for all online orders placed before 11am. For all orders after 11am please contact the store. For more information please click here.