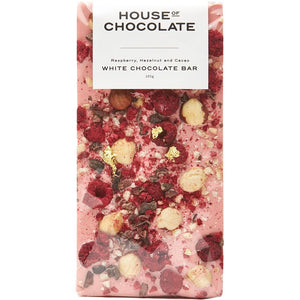 Add a beautiful handcrafted chocolate bar to our next order with this House of Freeze Dried Raspberry, Hazelnut & Cacao Nib White Chocolate Bar to your order.
Silky smooth pink chocolate is sometimes all you need in your life.

28% cacao white chocolate generously topped with freeze-dried raspberries, New Zealand dry roasted hazelnuts, and Cacao nibs.

Each bar has a touch of edible gold flake.

Carefully Handcrafted from start to finish in our Auckland chocolate kitchen.

This product is Gluten-free.